The West Side Drive (West Side Road) is a graded dirt road which parallels the main highway through Death Valley from north to south. It is the old road used by the 20 Mule Teams and the original 49ers.
The northern end of the road starts 7 miles south of Furnace Creek. If the weather has been bad (raining) the gate across the entrance may be locked. This is to stop folks traveling down the entire 36 mile length only to find the Amargosa River blocking their path (we even have a couple of photos of this unusual sight).
Susan and Andy in shallow water.
---
Click image for a larger view of Ken & Darren.
Most of the road looks like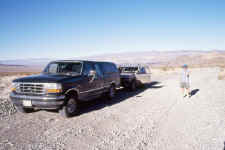 Click for a larger view.
---
The Eagle Borax Works are 23 miles in. The large pile in the background is partially processed Borax.
Click for a larger view.
---
The following were taken at the northern end of the road just about dusk.
Above, looking toward Badwater and Dantes View.
Above, fresh salt pan. Long shadows before dusk.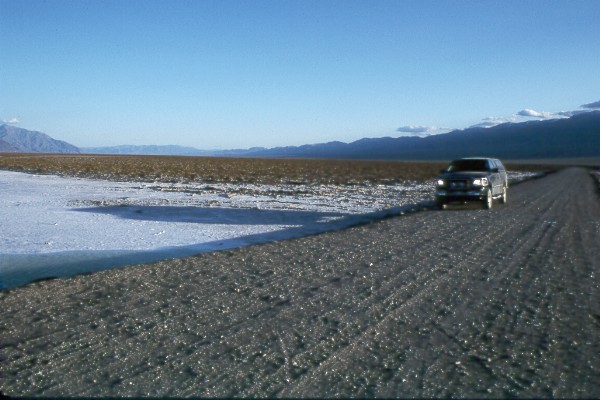 West Side Road, northern end and F-150.
---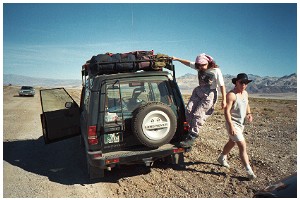 Darren and Sydnee tighten the roof load after descending from camp in Trail Canyon. As the picture shows (to the left of the open door), standard cars can easily make the trip along West Side Road (Assuming it isn't flooded at the southern end).