The Echo Canyon road branches north (left when heading toward Death Valley Junction) from Hwy 190 about 3.3 miles after the Furnace Creek visitor center.
The first 3 miles are an easy drive up to the mouth of the canyon. At the 3 mile mark, the rock outcrop, below, is the first obstacle to be crossed. It's usually a 2WD exercise, although 4WD high has been called for on occasion. The picture below is of Darren and Ken heading out of Echo canyon, arriving at the rock outcropping.
Ken heads back up the canyon.
Soon after the rock step, the canyon narrows with high vertical walls and the trail shrinking to 20 ft wide in places. After another two miles (about 5 miles in), the best part of the trail starts.
Oh, don't forget to gas up before any backcountry driving, you don't want to run out....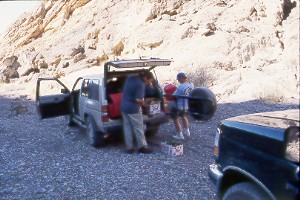 Oops, no gas....
Click here for the continuation of this trail.