There are two ways to get to Chloride City and Chloride Cliff. The easiest is to drive in from the Nevada side and join the trail at Chloride Junction. However the more interesting is the 4WD trail which starts at the marked turnoff on Daylight Pass.
The start of the road is a pleasant drive for just over 2 miles. You'll reach the junction with the old Monarch Canyon Mine Road (shown below). This is about the last flat spot you'll find until you get to Chloride Junction.
The road then starts its climb to Chloride Junction. During this trip in May of '98 Susan (in the Explorer) ran shotgun, taking pictures of all the wildflowers.
Ken, Darren, Gordon and yours truly, traveled as a group, Susan usually followed some minutes behind.
The picture below is Chloride Junction. This was taken on our June '98 trip.
When looking at the above photo, the road to Nevada comes in from the right. If you've come in via the Daylight Pass route, hang a hard right to go up to Chloride City.
The sign warns of Mine Hazard Area. This is a good point to put the trucks in 4WD low, as the road gets steep and ABS makes stopping on loose dirt a real pain.
When you get into Chloride City, the 'Cousin Jack' shack and grave of James McKay is one of the better places to visit.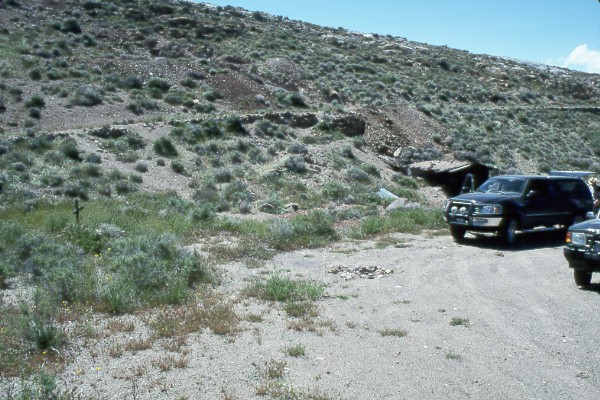 James McKay's Grave.
This spot also is the largest flat area around it makes a great place to stop and have lunch!
Our usual cast: Susan, Ken, Darren & Gordon (note the bungee cord holding Gordon's hat). One good thing about full size trucks is that the tail gate makes a great picnic table ;-)
When you get to the top of Chloride Cliff, there are great views down into Death Valley and Nevada. For those with good eyes, the huge LAC Bullfrog mine can be seen in the distance in the Nevada photo.
The view into Death Valley The view into Nevada.